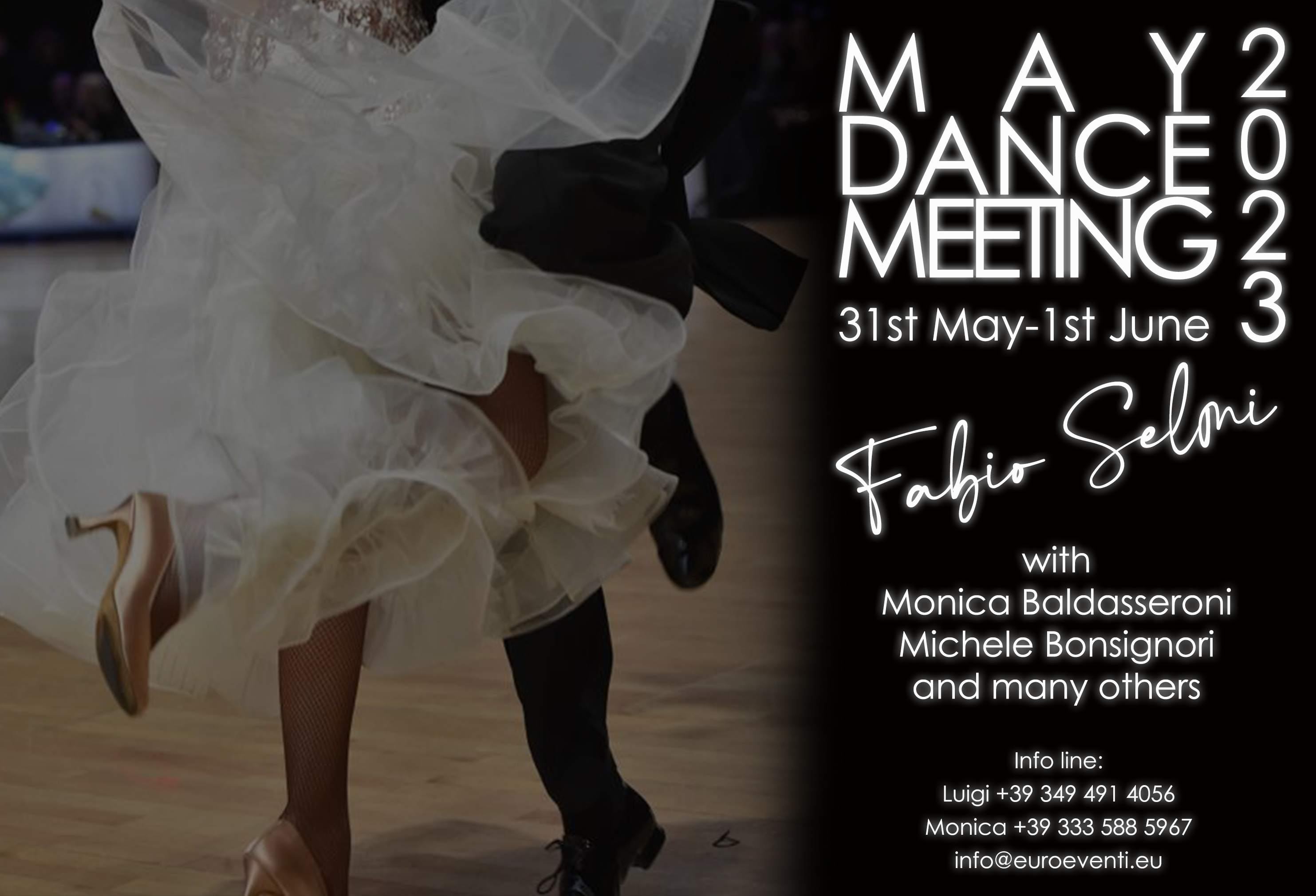 31st May – 1st June 2023
2 days of training, 2 lectures per day, group lessons, competition training with top international teachers. Private lessons available.
FABIO SELMI
MONICA BALDASSERONA
MICHELE BONSIGNORI
ANJA RAUSCHE-SCHRAMM
BRANKO BOHAK
CSABA LASZLO
DOBRINA PARICHKOVA
ERLING LANGSET
JUDIT SANDOR
LIOR BELENKY
MIRCEA GAVRILA
ROBERT WOTA
INFORMATION
Office hours
from 9am to 2pm
ENTRIES & PRIVATE LESSONS
Only on line booking available, writing number of lessons and teachers. You must write for every teacher also two alternative names. Entries without alternative teachers means that any alternative teacher is accepted. According to the availability, lessons will be booked on a "first come, first serve" basis. When one teacher is fully booked, we reserve the right, to book you in with another teacher. Two lessons with the same teacher max. We reserve the right to give no more than one lessons with overbooked teachers. Prices of private lessons can change without further notice. This application is binding and it is obligatory for the participant to pay the full amount for the camp, either in advance or in cash at the beginning of the Camp. In case of absence or early termination, the applicant has no claim to repayment. In the event of a proved illness, which prevents a participant from attendance in the camp, no fees can be returned but the applicant will receive a credit note which is valid to enter in a future camp.
Entries deadline is 24th May 2023.
The organizers reserve the right to change any of the above without further notice
TRAINING CAMP ADDRESS
L&A ACCADEMIA DANZA
Via Cesare Beccaria, 10F
37036 San Martino Buon Albergo
Verona – Italy
ARRIVAL IN VERONA
• By Train – "Verona Porta Nuova" main train station in Verona is 10 km from "May Dance Meeting". "San Martino Buon Albergo" train station is only 10 min walk from the studio.
• By Plane – Verona's "Valerio Catullo" international airport is only 20 km from "May Dance Meeting".
• By car – A4 Motorway, exit "Verona Est". Exit is 400 meters from "May Dance Meeting".